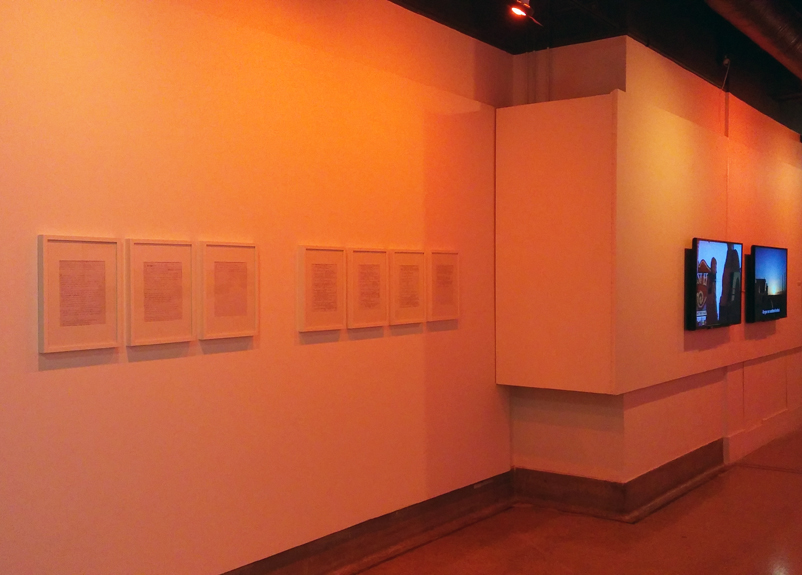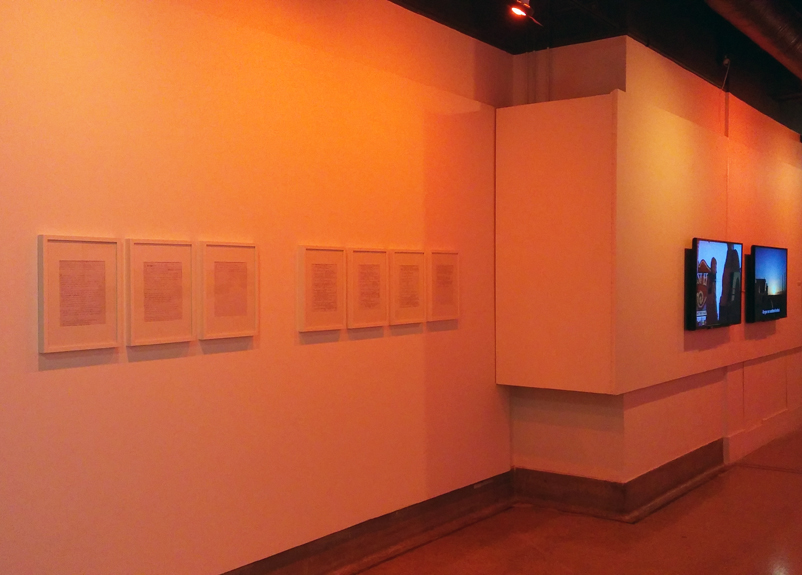 Between You and Me, 2015
Nuit Blanche, Artscape Youngplace, Toronto, Canada
Curators: Elizabeth Underhill and Adi Baker (Curators' Network Canada)
10.03.2015 - 11.08.2015
In this globally collaborative exhibition organized by artist-curator Emily DiCarlo, a shared moment in time acts as a catalyst for connection and intimacy, despite physical and temporal distances. Working with the experience of a sunset as the central focus, three works shape Between You and Me, in the form of photographs, audio, text and video. Further immersing the visitor's experience, the exhibition space bathes in sunset tones, produced by full-spectrum colour lighting.
In Set Together, DiCarlo collects photo documentation of sunsets from nearly 100 participants around the world. Invited to share their snapshots through social media on June 21, 2014 – the longest day of the year in the northern hemisphere – the project explores the interplay between simultaneity and displacement in an attempt to render collectively lived experiences into one compounded time and space. Originally conceived as an online project, a selection of the photos is presented in physical format for the first time.
In her ongoing series that began in 2009, Same Time, Always Behind expresses the connective power between two individuals miles apart. DiCarlo performs with a collaborator living at least one time zone away to witness and document a sunset "together". Performed within the same 24-hour duration, each participant captures their respective time zone's sunset and logs their subjective observations. In this exhibition, two of the most recent iterations of this performance are presented.
In Same Time, Always Behind: Toronto/Eindhoven, DiCarlo partnered with Hanneke Wetzer, an Eindhoven-based artist and designer, to complete the performance-for-video. Acting as an addendum to the subtitles in the video, Generational Translator presents their logged experiences from the performance in the form of translated letters produced by each artist's grandparent: Wetzer's grandfather, Gerard Wetzer, translating the English subtitles to Dutch, and DiCarlo's grandmother, Jean Boneschankser, translating the Dutch subtitles to English.
For the first time in this series, Same Time, Always Behind: Toronto/Bordeaux focuses on the ambient sounds of experience opposed to visual impressions. Working with interdisciplinary artist Guillaume Adjutor Provost in France, DiCarlo transferred the digital audio recordings of their sunset observations to vinyl records. With intention to be simultaneously played on a traditional DJ turntable deck, the time and distance between original experiences folds to conceptually live as one shared experience. - Adi Baker and Elizabeth Underhill, co-curators